A TOUCH OF ROSE GOLD TO YOUR EVENT
ROSE GOLD AS YOUR WEDDING THEME
Now that you are getting married, you might be pondering what colour palettes and theme to choose. Understandably, you would want your wedding to be unique, special, beautiful and can create a long-lasting impression. That when you look back decades from now, you still love your dress, the flowers, the decors just as much love to the person you said, "I do" to.
Silver and gold are all-time favourite in the wedding world. If you are considering the metallic tone which can be contemporary and sophisticated at the same time, Rose Gold can be the right one for you. It's got a tone similar to blush and copper and has more of a pink hue which most of us ladies love. Rose gold suits very well with other colours that can give a spectacular look and feel to your venue.
NPM Events is here to give you some glimpse on how we can turn your special event into classic yet glamorous style.
1. Table Setting
Instead of the classic silver and gold, let's give the banquet table some rose gold details. Rose gold charger is just perfect to add a subtle décor top it with white plate and white side plate. Compliment it with white table napkin rolled with our rose gold napkin ring.
OR instead of a white plate on the already stunning rose gold charger plate, top it with our pink plate and gold cutleries on the side. Using our diamond cut glasses will not only quench your thirst but will also complete the look of a refreshing table set. Isn't it appetizing?
ROSE GOLD CHARGER PLATE: Hire price – $1.50 each
WHITE PLATE: Hire Price – $1.00 each
WHITE SIDE PLATE: Hire Price: $0.40 each
NAPKIN RINGS: Hire price – $0.75 each
PINK PLATE: Hire price – $1.00 each
GOLD CUTLERIES: Hire price – $1.00 each
WHITE LINEN NAPKINS: Hire Price – $1.20 each
DIAMOND GLASSES: Hire price – $2.00
2. Centrepieces
Why not set the scene with romance by adding some rose gold candle holders.
And add some fresh or artificial pink and white flowers in a rose gold pot.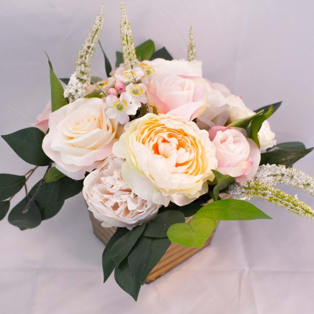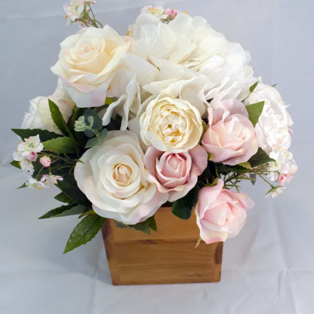 VINTAGE ROSE ARRANGEMENT GOLD POT: Hire price – $15
VINTAGE ROSE ARRANGEMENT IN WOODEN BOX: Hire price – $15
We also have a variety of Geometric Terrarium Centerpieces which can be used as candle holders or simply add florals and greenery and voila… it will create a classic romantic luminance on your guests tables.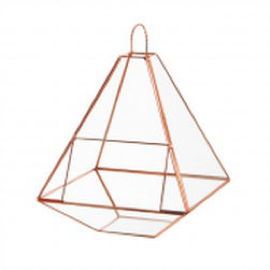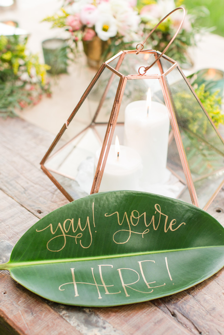 GEOMETRIC TERRARIUM LARGE PYRAMID COPPER: Hire price – $8.00 (florals and candles additional)
Photo credit: www.weddingwire.com
3. Florals
If you are after a simple yet timeless centre table flowers, look no more as these blush and peach roses combined with lush greenery will give the rosy glow on your table banquet.
Contact us to get a quote!
4. Cake Stands
This Rose Gold Cake Stand is perfect for cake, wedding cakes, dessert, candy buffets and Birthday parties. This stand comes in 3-sizes. Very elegant and versatile and will make your desserts stand out.
ROSE GOLD CAKE STANDS (3 SIZES) Hire Price: $10.00 – $20.00
5. Decorative Accessories
When it comes to venue decorations, you can go all the way and keep everything rose gold or just a touch of it. Gleaming with rose gold finish, we can setup these lanterns to create your own candle garden. These will add a touch of warmth and sophistication to either outdoor or interior gathering
ROSE GOLD LANTERNS (3 sizes)  Hire Price: $8.00 – $12.00
New to our collection is this rose gold peacock chair. We can help you feel like a princess sitting on this intricately woven throne-like chair and we can add fresh greens with pink and white flowers to it.
ROSE GOLD PEACOCK CHAIR: Hire price – $60
Once you opt for a wishing well, this Mirror-finish Rose Gold well is just perfect to hold all the warm wishes on your wedding day and it comes with lock. We can add your personalized decal or acrylic writing.
ROSE GOLD WISHING WELL: Hire price: $80 (writing – additional)
ROSE GOLD EVENT IDEAS
 As our collection of rose gold items grow, so as our desire to design any event to bring that rosy glow. We can turn a baby shower, anniversary and birthday into an elegant, stylish and truly stunning event for you.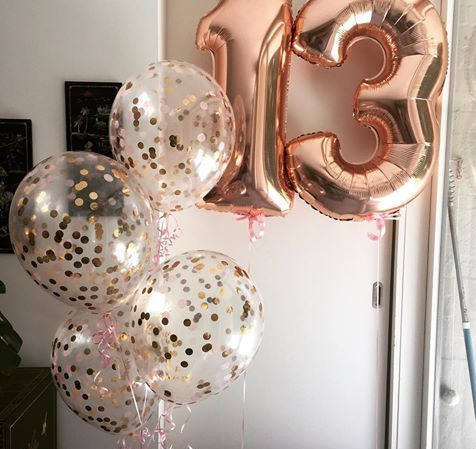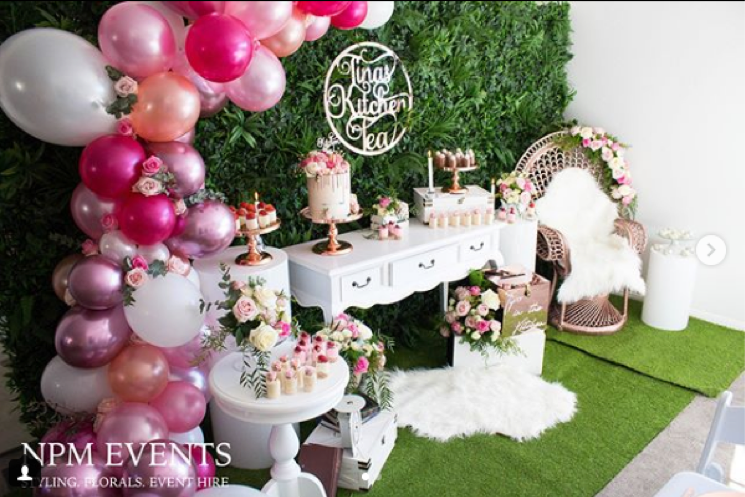 Can't get enough of what NPM Events can do to make your special day gleaming with Rosy Glow? Contact us at [email protected] and we'll more than happy to discuss your options.